News
New website 20.05.2012
The new website of the German Diplomacy Association is finally done and online!
We hope you find yourself at home when looking around. Feedback about the new site is well appreciated so if there is anything you want to let us know: Just do it!
Looking back to the Chill Out Con VI 15.04.2012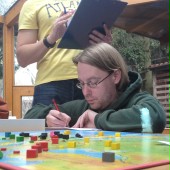 The first German convention of 2012 took place in Hannover and was pure fun. Nothing else was expected from the Chill Out Con, to be honest.
Hannover has not only seen laods of different boardgames but also, what probably is the most important, three round of Diplomacy at two boards. After two rounds on saturday and one on sunday morning the winner was certain: There currently is currently no way past the acting German champion Holger Fiedler. The second place was a split one between Stefan Unger and Benedickt Hoffmann. Congratulations!
The year 2012 15.01.2012
As in recent years Stefan Unger will host the Chill Out Con which is directed at newbies as well as old hands. It will take place from the 13th to the 15th of April in the Gleisdreieck in Hannover. Further information is available on Stefan's homepage where you can also register.